Posted: June 22 2022
Created by: WeakBot
---
Eternal Dragons - a game about fantasy worlds and dragons
Eternal Dragons will be a blockchain NFT play-to-earn game on the Solana blockchain with 10,000 unique NFT Dragons. As a huge fan of How to train your dragon, I just had to dig deeper into this and was pleasantly surprised when I read the plan and saw the amazing art. Who doesn't like dragons? Especially ones that look that good!

I am always looking for a catchy story and something that can attach me emotionally to my characters when it comes to games. Eternal Dragons plan to excel at this and will bring a novel-like story with 4 chapters where your feats are saved and become part of the lore forever. These 4 chapters represent the 4 different games that will be coming out over the next couple of years.
Eternal Dragons - Prologue: Genesis
Eternal Dragons - Chapter 1: Strife
Eternal Dragons - Chapter 2: House of Dragons
Eternal Dragons - Chapter 3: War of Kings
All of them will be under one ecosystem and here comes the cool part, you will be able to use all your NFTs in all of them. There will also be no need to dock your NFT in one of the games to use it. You will be able to use them in parallel. During the Prologue: Genesis, NFT owners will be able to breed their dragons and will be responsible for populating the universe by the time the first chapter comes in. When the Strife chapter is released, players will be able to bring their NFT Dragons into a strategic auto-chess battle (Similar to Teamfight tactics by Riot). Then House of Dragons chapter will focus more on the social aspect where you will be able to create alliances and finally in War of Kings you will put those alliances in fierce battles against each other and start exploring the amazing world of Eternal Dragons.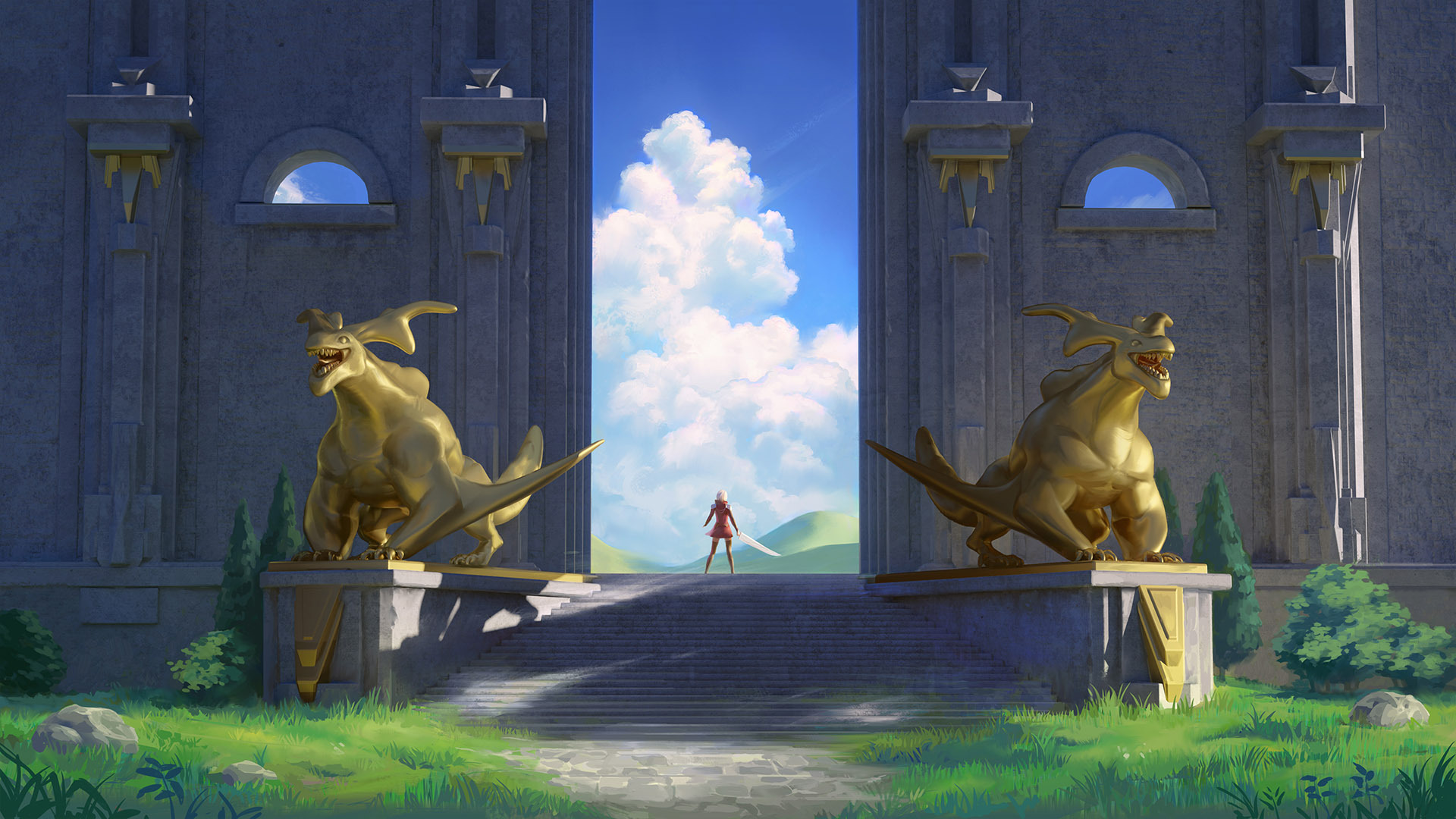 Many blockchain games have been missing one of the main pillars in their projects and that pillar is FUN. By focusing on the entertainment value in a game first, it is more probable for it to achieve longevity and sustainability and that's why Eternal Dragons have promised fun to be at the center of this incredible adventure.
Let's now go back a step and talk more about what is coming really soon. Currently, the Eternal Dragons team is actively rewarding their most engaged community members with Dragon Blood (Whitelist for the presale) and hosting AMAs and other events that can also get you one. Another way for you to stand a chance to earn a whitelist is to complete their quests on their website (link below).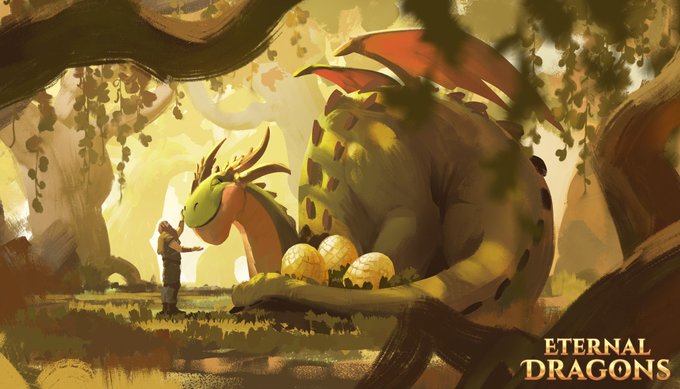 The presale doesn't yet have a set date but it should be coming in a few weeks' time so you still have plenty of time to get your Dragon Blood and own your unique Dragon! They will never be mintable again and will have unique in-game abilities, a chance for a special trait that cannot be inherited in future generations, no level cap so you can reach max level (while later generations will have a cap), won't be turned into stone when they reach their breeding limit (yes, dragons turn to stone after breeding 7 times) and the thing that might interest many investors- they will get revenue share on earnings from all their offsprings. And that's not all, every Eternal Dragon NFT holder will get special perks like early access, future NFT/token presales, access to exclusive community channels and many more. I advise you all to read their rich whitepaper on their website for more info on breeding, chapter details, tokenomics and business model.
Here are two graphs that can perfectly explain the flow of the Eternium token that will be used in Eternal Dragons and the NFT Flow.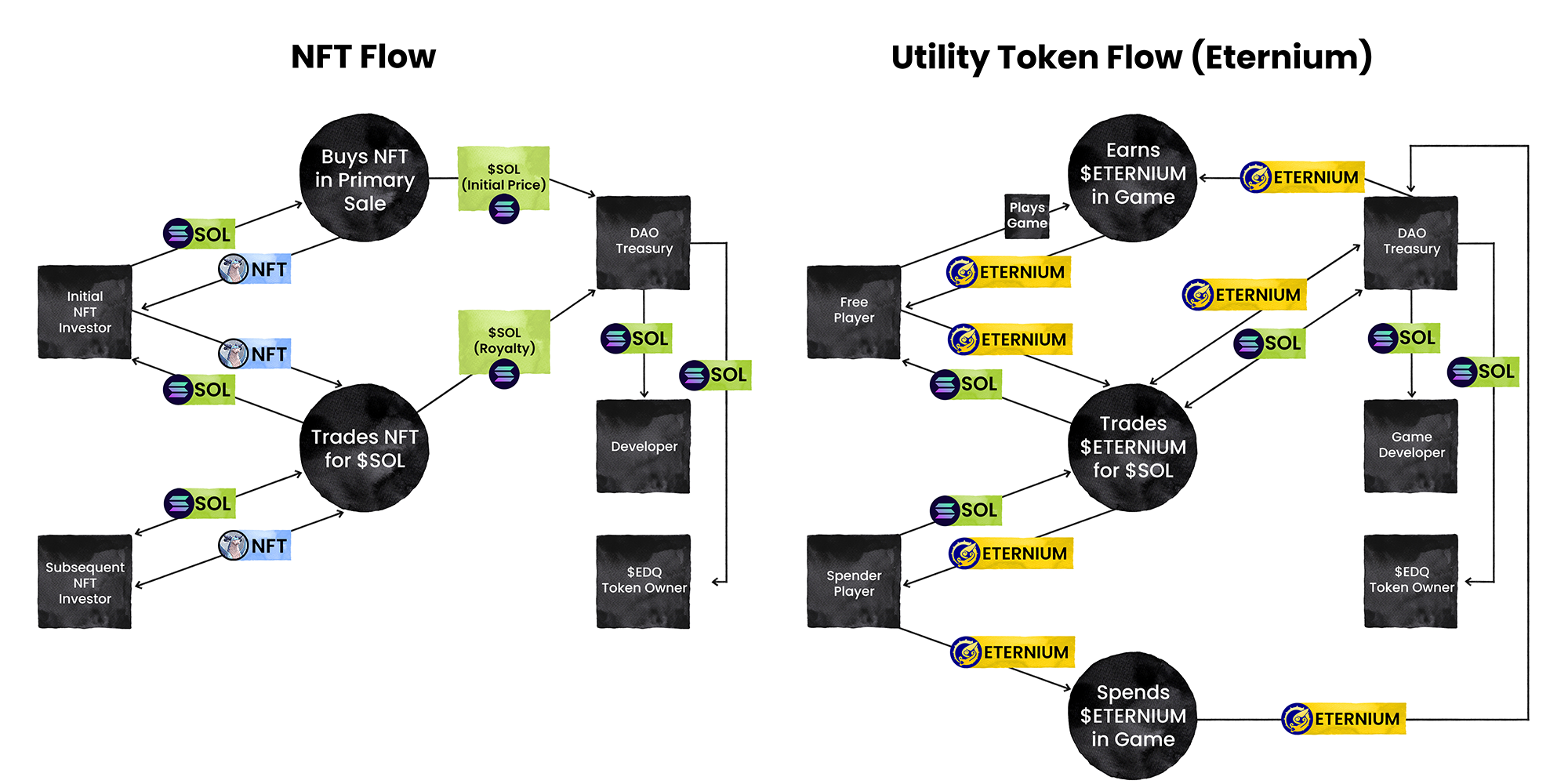 Trailblazer Games, the studio behind Eternal Dragons, have already captured many investors' interests and have raised a whopping $8.2m to help them develop their universe as best as possible and stay on track with their roadmap. We in DCG plan to be part of the platform that will be created in parallel with the games that will empower guilds to compete, grow and succeed in Eternal Dragons.
.
⁠.
⁠.
Links:
⁠Eternal Dragons website: https://eternaldragons.com/
⁠Eternal Dragons twitter: https://twitter.com/EternalDragons_
⁠WeakBot's Twitter if you want to drop me a follow: https://twitter.com/WeakBot1
⁠(Yeah WeakBot1 because someone took my username for the first time ever)