Posted: August 29 2022
Created by: Carlos
---
Beginners Guide to Safe Cryptogaming
TABLE OF CONTENTS:
General introduction

1.- Security

2.- Most used Apps

3.- Social Networks

4.- Game Presales

5.- Cryptogames
GENERAL INTRODUCTION:
The purpose of this document is to serve as a guide for beginners who want to safely enter the world of NFT Games, the tools they may need, and let them know of the risks and dangers that can be found. Crypto NFT Games are a more immersive form of entertainment than standard games, since you have control and ownership over your assets thanks to their traceability in the blockchain. This document is not intended to form the basis of any investment decision and should not be considered an investment recommendation or advice.
This guide is divided into 5 lessons, the most important of all being security. In case of doubts you can always go to our DCG Discord and we will be happy to help you
1.- SECURITY:
This is the most important lesson in crypto. It means that nobody should invest a single $ in crypto if they have not gone through this lesson, nothing is more important than securing your assets. Don't be afraid to ask any question in the Discord of DCG https://discord.gg/HwMcy5G5Yw , there will be always someone happy to help you, but be careful of anyone who sends you a DM (Direct Message) after you have ask a question in Discord.
SCAMS: Never give your passwords or seedphrases to ANYONE! Not even your mother. The crypto world is full of scams, scammers, and identity theft... They pretend to be customer service, apps like Binance, Metamask, or crypto games, or random draws in which you have won a prize, and it is very easy to believe. Lots of people want to steal your crypto, and lots of people have lost their crypto already. And furthermore, once your crypto is stolen, there is no police guarding, and there is no way to get your crypto returned. So be careful.
FAKE EMAILS: Many scam emails pass themselves off as emails from official apps, ALWAYS be suspicious, and never click on links you see in suspicious emails.
TRANSACTIONS: Every time you go to make a crypto swap or a transaction, check several times that all the data is correct. Once you send it, there will be no going back, and if you have written the destination address wrong, that crypto will remain lost forever, and there is no one to complain to. A good practice is to send a small amount, as a test, to check that it is well received, and then send the rest.
PRIVACY: Your personal data is valuable, try not to give too much personal information, or give clues about how much money you have earned/invested. From your name it is easy to access your Facebook, social networks, email,... and try to send you a phishing email or other forms of hacking, access your data or files, and ask for a ransom in crypto.
TRUSTED APPS: Trust only reputable and well-known websites, exchanges and apps. There are people who, by using little-known exchanges, have ended up scammed and in trouble.
FAKE COPY OF CRYPTOCURRENCIES: Every time a project is successful, many fake copies of their cryptocurrency come out, so people make a mistake and buy the fake one by mistake. To check that the crypto you are buying is the correct one, if in doubt, go to BSCScan/ETHscan and check it out, go to the official webpage of the project, or check coinmarketcap.com, and look for the correct CA (Contract Address).
OFFICIAL WEBSITES: When you enter a web page through a search engine, make sure it is the official page, do not trust the links that appear first in search engines if they are labeled as "adverts". An example of a scam is websites that pretend to be the Metamask website, which appear listed first in Bing or other search engines but are marked as adverts, and once you install the fake Metamask, and enter your seed phrase to import a Metamask wallet, they steal it with ALL its contents. Tip: check the verified twitter accounts, those usually have a website, and twitter has already done the hard work verifying the project is the legit one.
OFFICIAL TELEGRAM/DISCORD GROUPS: It is common for scammers to create Telegram groups that replicate the original, invite many of the members, add bot accounts so that the total number of members is similar, and post links to scam websites or fake token contracts. Always make sure that the Telegram groups are the official ones, look for the links on the official project page.
DO NOT TRUST PERSONAL MESSAGES ON TELEGRAM/DISCORD: If you receive a personal message (DM) on Telegram or Discord, 99% of the time it will be a scam. No, you have not won a lottery, nor are they going to give you Bitcoin, nor a whitelist. A common practice is for scammers to pose as support (usually after you've made a query in a Discord or Telegram group) and send you a DM (Direct Message) asking you to give them more information about your problem and then rip you off. Number One Rule in any Discord/Telegram: A member of the Mod/Dev team will never, and I repeat, NEVER DM you first.
2.- MOST USED APPS:
There are some apps and websites that are necessary if you want to interact with the tokens used in cryptogames. These are the main tools you need, and for each one the most popular brand:
CRYPTOWALLET => METAMASK: The best and most recognized to store crypto, tokens, and NFT's. It operates on several networks, by default it uses the Ethereum (ETH) network, but the BinanceSmartChain (BSC) must also be installed, to be able to operate with BNB and tokens based on this network. ETH and BSC are the most popular networks, but there are other networks (Polygon, Avalanche, Harmony,…) that can be added. To add the BSC Mainnet network there are instructions on Google. To add tokens to the list of visible tokens, there are also instructions on Google. An easy way to add blockchain networks is through https://chainlist.org/

You can download Metamask at: https://metamask.io/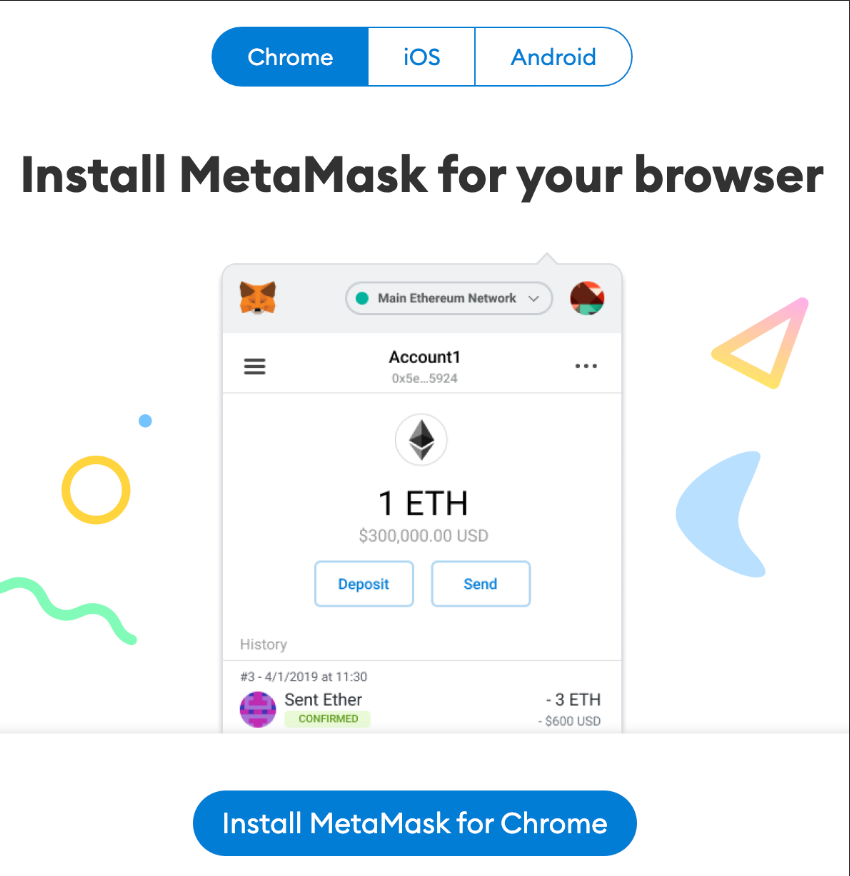 CEX (Centralized Exchange) => BINANCE: The best and most famous exchange to trade and store cryptos (it is therefore both Exchange and Cryptowallet). Its currency, the BNB, is widely used as an exchange currency when buying most of the tokens and NFT's of the BSC (Binance Smart Chain). Besides, it operates with thousands of other cryptocurrencies. The process to open an account, and be able to make deposits, can take several days, and ask for information such as your photo and your ID.

You can send crypto from one wallet to another, for example to Metamask, and they charge you a commission, "gas fee", which can vary from $0.10 in BNB, in the BSC network, to between $25 and $200 in ETH, on the ETH network.

Other good Exchanges are Coinbase, CoinEx, KuCoin, …

Link to Binance: www.binance.com , or www.binance.us if you live in USA.

DEX (Decentralized Exchange) => For example PANCAKESWAP: They are websites where you can connect your Metamask, and swap from one crypto to another, to be able to buy cryptos that are not available in the usual exchanges (Binance, Kucoin,...). It is not necessary to create an account, it uses the Metamask account. Each DEX operates on a network, Pancakeswap operates on the Binance Smart Chain, and it is necessary to have a small amount of BNB to pay the "Gas fee".

ANY token can be listed on a DEX, including scam tokens, therefore you should use a DEX only if you know what you are doing, and you know the correct Contract Address of the token you want to swap.

Other DEXs are, UniSwap, Quickswap, Sushiswap, Traderjoe,…

Link to Pancakeswap: https://pancakeswap.finance/

BLOCKCHAIN EXPLORER/SCANNING SITES: They are websites in which absolutely ALL the movements, transactions, transfers, purchases,... that have been made in the entire history of all cryptocurrencies of that blockchain are registered! For example, in BSCScan you can see the entire transaction history of your Metamask account in the BSC network, or that of any other wallet address. The owner of each wallet is private data, but the operations carried out by said wallet are public.

Each blockchain has its website to scan movements (BSCScan, ETHERScan,…)
3.- SOCIAL NETWORKS:
The best source of information to be up to date with the latest news about an specific project. There are other social networks from which you can get good information, such as Twitter, Reddit (r/Cryptocurrencies group for example) or Medium articles
DISCORD: It is essential to open an account to be aware of updates, and get privileged information. For example, when there is a game update, NFT's or token releases, maintenance, etc.

TELEGRAM: Another good source of information, although if you're already on Discord, it's not a must.

YOUTUBE: There are several youtubers with good recommendations, but beware, there are also many youtubers who are wrong most of the time, or who try to promote projects that pay them, even though they know that they are not a good investment.
4.- GAME PRESALES:
Most cryptogames have the same vital cycle: the dev team creates an idea, starts developing this idea, gets funds from private seed rounds, the idea gets bigger, they get more funds through private presales, whitelist presales, launchpad presales, and then finally the project token/NFT's are launched. Depending on the success and sustainability of the project, and the tokenomics, the project has a shorter or longer life. You can enter these games normally by purchasing NFT's that are assets in the game, and that you can sell in the secondary market if you find the right buyer. Never invest more than you can afford to lose, never expect a high ROI. Any game, like any other project in crypto, can go to zero any time (You can check out the LUNA crash)
In some cases, you can get these NFT's and tokens early in presales, with the risk that the project is in an early stage, and it is uncertain how well it will perform in the future.
To Access presales of some projects in these launchpads, normally you have to stake/lock the launchpad's tokens. This will allow you an allocation of the project's token at presale price, without a whitelist.
Some known launchpads are: Trustpad, Launchzone, Poolz, BSCStation, Poolz, Polkastarter, KrystalGo and Seedify.
Some projects give the opportunity to buy tokens/NFT's at presale Price, by getting a whitelist spot. Normally these whitelist spots are obtained in their Discord/Telegram, by raffles, making social tasks (retweet in Twitter, reach a level in Discord, etc.), or other achievements.
Sometimes there are minigames and quizzes organized in our DCG Discord in which you can participate and win whitelists spots for new projects.
5.- CRYPTOGAMES:
Over the last few years, and mainly in 2021, the ecosystem of blockchain gaming has helped players gain financial income. Cryptogames reward people with tokens and NFTs for the time they spend playing these games. However, most NFT games require players to buy assets (NFT and tokens) of the game. Entry level requirements restrict access, some games are Free To Play, but with little or no rewards, while others require a considerable investment.
As an example, in Town Star (a game in the Gala Games ecosystem) you have the chance to play the game for free. But if you get NFT's (in the Gala shop or in the secondary market), you can get better rewards.
You can see an example of a list of some Cryptogames in the DCG Website.
What are Scholarships? The scholarship is a revenue sharing model between the scholar and the NFT owner. Players without funds will not be able to earn rewards from games. Therefore, some individuals and organizations offer scholarship programs for gamers. NFT owners lend NFTs to gamers, and they both earn a percentage of the rewards. This allows free to play players a way to earn, and also allows NFT owners to make more income.
Before investing in any game, DYOR (Do Your Own Research), spend only what you can afford to lose, and don't trust any promised ROI (Return of Investment), as the price of the currency is not guaranteed over time, and can fall due to inflation produced within the game itself.